Description
PLEASE READ THE DESCRIPTION BEFORE PURCHASING:
FACFOX is the official contract manufacturer of RollingSloth Designed Mouse mods. This item only includes 3D printed parts, no 3D design files are included or available for sale!
RS-D is Logitech G1 based custom shell mouse, weights 60.6g (Sorbo 400mah rechargeable AAA battery / G305 mouse feet)
* Weight will vary depending on the battery, feet or 3D printing condition
The followings are required for the mouse:
G305 (G304) Mouse Internal / PCB / Screws
AAA battery
Grease, Sandpaper (Optional)
4 Disc Magnets : 4mm(d)x3mm(T)
Super Glue
*No soldering is necessary
Troubleshooting
In some cases, clicking may not feel good. In most cases, it is caused by friction between the guides, and in that case, grind the protrusion in the red circle little by little with sandpaper.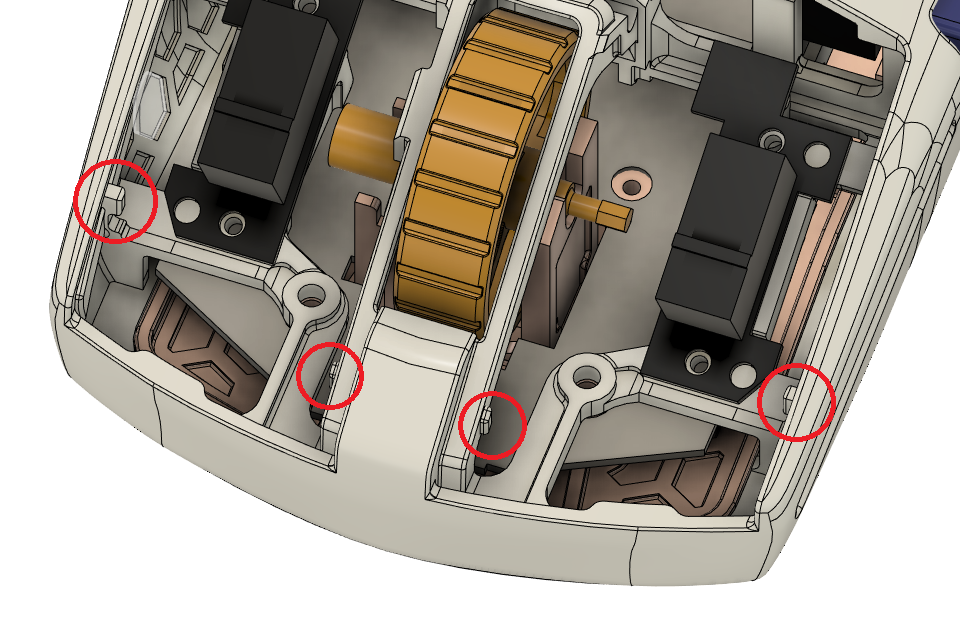 Kit Version Comparison
3D printed shells
5x round mousepads
4x Disc Magnets : 4mm(d)x3mm(T)
Battery Pack

3D printed shells
1x AAA 1.5V USB rechargeable battery (7 grams, 666mAh)
5x round mousepads
1x Magnet USB charging cable
4x Disc Magnets : 4mm(d)x3mm(T)
Tryout version to test the shell/grip before making a purchase decision: https://www.thingiverse.com/thing:5572040
It is recommended to print and test the tryout version shell before purchasing.
Instruction
* Precautions

– It is recommended that the printed bodies be cleaned before assembly. It may be powdery due to the 3D printing method.
– Handle the solder fixing the PCBs, the wires, and the battery contacts with care, not to detach or break.
Assembly Instruction / Test Video
For assembly questions, please send the inquiry to https://twitter.com/RollingSloth or [email protected]!
Terms and Policy
By purchasing this product you agree to the following terms:
All purchased 3D printed parts are exclusively reserved for private and personal use.
We don't provide 3D models, only 3D printed parts.
Once the order is placed and manufactured, we DON'T ACCEPT ANY REFUND REQUEST!!!
If the item is broken, please request a free remake by providing solid proof of broken parts within 3 days after delivery!!!
Material Option
As a professional 3D printing provider, we have over 50 material options, the recommended materials for this mouse cover are listed below with a 5-score rating.
The Nylon cases may weigh 23g. For people whose hands are always sweaty, we strongly recommend Nylon cases.
Black Nylon – Highly recommended
HP MultiJet Fusion nylon with excellent flexibility, durability, and impact resistance, it's also more smooth than white nylon.[Smooth-4, Durability-5, Toughness-5, Rigidity-3]
White Nylon– Not recommended
SLS nylon with excellent flexibility, durability, and impact resistance. The surface is matte and porous, not as smooth as resin.[Smooth-4, Durability-5, Toughness-5, Rigidity-3]
Additional information
| | |
| --- | --- |
| Kit Version | Case Only, Battery Pack |
| Material | Nylon (Black) |
Only logged in customers who have purchased this product may leave a review.
Related products